Enabling our children - Baela Raza Jamil - TNS
Innovative programmes for child protection through education exist but these efforts are diluted by a rising population and low allocations
Baela Raza Jamil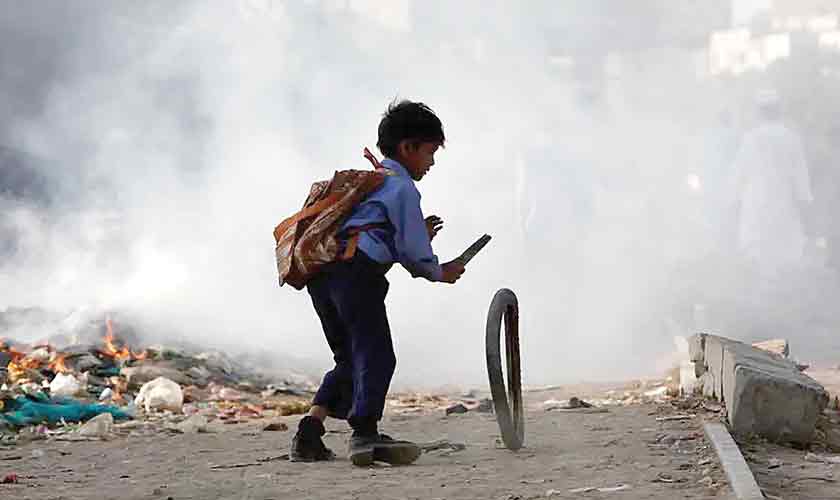 They run a YouTube channel called Funn Kay Rang – Bachon Kay Sang (colours of capabilities with children); they really know their routines well for the 30-minute programme they have designed and host every Friday on Facebook, with 18 episodes already completed. The sessions cover storytelling, STEM, news and arts/ crafts. Unbelievably, these children belong to ragpicker communities living on the margins of every major garbage dump in Lahore. The only difference is that they have been enabled for eight years, from zero learning. Many are now enrolled in Grades 8 to 10. Their achievements are not just academic, but also in life skills and technology. Some have been certified in technical and vocational education and training (TVET) programmes. These 13-17-year-old girls and boys, once doomed by worst forms of child labour according to ILO Convention 182, are now empowered and enabled to live dignified lives.
The commitment to salvage a cohort of 640 ragpicker children came from industry together with a civil society implementation partner. The rest, as they say, is history. The lives of these adolescents are on a transformational trajectory due to a holistic and inclusive support programme comprising education, life skills, technology, social emotional learning, nutrition, health, sports and much more. There are many brilliant examples of innovative programmes for child protection through education and partnerships across Pakistan, a country with robust trends in philanthropy. But sadly, these efforts are diluted due to a rising population and chronically low allocations for the social sector. A country on a runaway population pathway (1.9 percent annual growth rate), and unmet basic needs of immunisation (77 percent coverage), anaemia (62 percent), stunting (38 percent) and birth registration (34 percent coverage), translates into fundamental child rights denied across multiple dimensions. When millions of children are born into poverty (22 percent) in vulnerable households, some suffering from disability (12-15 percent) and belonging to minority groups, the intergenerational challenges are staggering. These are reflected in the Human Development Index (HDI) rankings where Pakistan stands at 161 out of 191 countries (2021).
The Economic Survey of Pakistan released annually by the Ministry of Finance states that in 2020-21, the expenditure on education was 1.77 percent of the GDP. Low allocations together with systemic issues of spending, disbursal and capacity translate into one of the lowest net completion rates in South Asia, with only 67 percent at primary, 47 percent and 23 percent, respectively, for middle and matriculation. Lack of supply of post primary facilities results in a majority of the 23 million out-of-school children belonging to the 11-16 age group, suffering from low levels of foundational learning. Learning poverty of all 10-year-olds unable to read with comprehension is estimated at 80 percent on account of Covid-19. Now, with the monster floods affecting 88 districts, including 19 of the 25 poorest ones, 3.5 million children's education has been interrupted with 26,632 schools fully and/ or partially damaged.
Recently, on my third visit to flood affected areas of upper Sindh in November, while verifying affected schools, I met a beautiful 10-year-old child. He was carrying a garbage bag over his shoulder. His name was Waseem. When I asked about his siblings, he sharply responded that they all went to schools, but he didn't any longer. When interrogated further, Waseem said that he was severely beaten on legs and back with a rod for not doing his homework; he decided to quit school rather than face a tyrannical education.
Sindh has a progressive and unequivocal law, the Sindh Prohibition of Corporal Punishment Act, 2016. Islamabad passed one in 2021 setting aside Article 89 of the Pakistan Penal Code 1860, allowing teachers, parents and guardians to punish children in "good faith". But who is ensuring the enforcement to stop violence against children, and restore Waseem's dignity? Article 25 A was secured through the 18th Constitutional Amendment in 2010, ensuring every child's fundamental right to education (5-16 years of age). With five laws notified across Pakistan, it suffers from 12 years of zero implementation. Sindh is the only province to pass the Sindh Child Marriages Restraint Act 2014, raising the age of the girl child from 16 to 18 years. Laws in place are critical, but their enforcement is fundamental.
Today, we are not just commemorating World Children's Day 2022. It is a call also for coalitions to recognise the true value of the child in Pakistan, not as a silenced subject/ object but as a dignified, vibrant, resilient and productive citizen. Denying care, protection, education, participation and basic needs is not a choice. Let us put Waseem back in a caring, law-abiding school promoting children's agency so that their full potential can be witnessed. Let's make all our children survive, express, learn with dignity and, above all, be happy.
The writer is the CEO of Idara-e-Taleem-o-Aagahi (ITA), founder of the Pakistan Learning Festival and the Education Commission commissioner. She can be reached at baela.jamil@itacec.org
Source: https://www.thenews.com.pk/tns/detail/1011256-prioritising-child-mental-health